Contract Services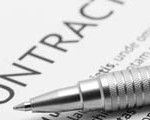 I want to help businesses stay out of legal trouble, and one of the best ways to do this is to have good contracts on hand.  Michele Clark Law is unique in providing à la carte services to businesses.  I can review your existing contracts, write new ones and advise you whether you need a written contract or not.
"Writing a good contract is like solving a logic problem, in plain language"
For larger projects, I am experienced at turning your negotiated business terms into readable and enforceable contract language.  Whether you are creating a new company, embarking on a joint venture, or buying or selling a business, Michele Clark Law has the legal knowledge and creative ability to help you write the deal on the terms you decide.
Proficient with Contracts
My experience with business litigation, civil litigation and contract disputes gives me great insight about both sides of contracts.  I provide drafting, review, editing and negotiation of contracts like:

Operating Agreements
Buy-Sell Agreements
Noncompete Agreements
Independent Contractor Agreements
Joint Venture Agreements
Employment Agreements
Asset Purchase Agreements
Stock Purchase Agreements